Feestelijke mijlpaal bereikt: Bedankt voor 10K abonnees met een speciale #cannalivestream bingo!
mei 16, 2023
powered as we delve into the incredible potential of cannabis.
Introducing the Remarkable Doctors: Let us introduce you to the remarkable doctors who will be your guides on this exciting podcast journey. Dr. Peter Grindspoon, a respected figure in the medical community, will share his vast expertise on the therapeutic properties of cannabis. His wealth of knowledge will unravel the mysteries surrounding this extraordinary plant.
Dr. Jake F. Felice, a passionate advocate for integrative medicine, will bring his unique perspective to the conversation. His expertise in cannabis therapeutics and holistic wellness will open your eyes to the potential benefits of incorporating cannabis into your health routine.
Prepare to be inspired by the incredible Dr. Bridget Cole Williams, whose deep understanding of cannabis will leave you in awe. From exploring the intricacies of different cannabis products to discussing their potential effects, Dr. Williams will provide invaluable insights into this fascinating world.
And let's not forget Dr. Jordan Tishler, an expert physician specializing in cannabis medicine. With his extensive experience, Dr. Tishler will shed light on the medical applications of cannabis and guide you through its safe and responsible usage.
Unveiling the Wonders of Cannabis Products: Are you curious about the incredible potential of cannabis products? The Cannalivestream Podcast is your gateway to unlocking their secrets. Each episode will take you on a journey of discovery, exploring the therapeutic properties, diverse strains, and emerging trends in the world of cannabis.
Discover the unique benefits of CBD for pain management and anxiety relief. Gain insights into the potential of THC in treating certain medical conditions. Learn about the entourage effect and how the combination of different cannabinoids and terpenes can enhance the therapeutic properties of cannabis.
Why You Should Tune In: By tuning in to the Cannalivestream Podcast, you'll:
Learn from World-Renowned Experts: Gain knowledge and insights from leading doctors who have dedicated their careers to understanding cannabis.
Explore the Potential of Cannabis: Discover the diverse applications of cannabis products and how they can enhance your well-being.
Stay Informed: Stay up-to-date with the latest research, trends, and breakthroughs in the cannabis industry.
Make Informed Choices: Empower yourself with the knowledge to make informed decisions about cannabis usage.
Join the Cannalivestream Community: We invite you to join the vibrant Cannalivestream community, a gathering of like-minded individuals passionate about the potential of cannabis. Engage in meaningful discussions, share your experiences, and connect with others who are on the same journey of exploration and discovery.
Conclusion: Are you ready to explore the remarkable world of cannabis? The Cannalivestream Podcast is your ticket to an enlightening and inspiring experience. Join us as we dive into the depths of cannabis knowledge with world-renowned doctors like Dr. Peter Grindspoon, Dr. Jake F. Felice, Dr. Bridget Cole Williams, Dr. Jordan Tishler, and many more.

Don't miss out on this transformative opportunity. Tune in to the Cannalivestream Podcast and immerse yourself in the world of cannabis and hemp!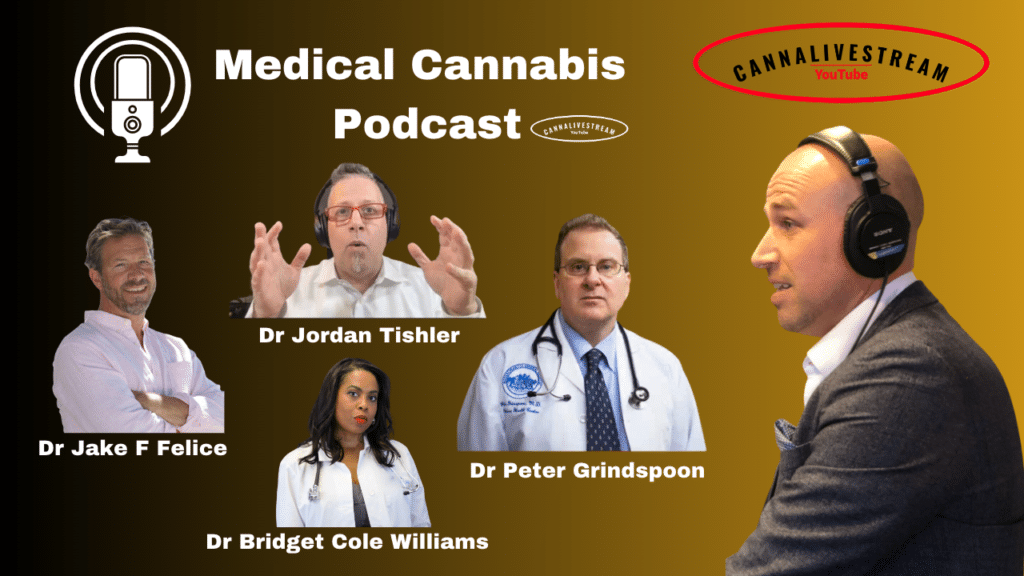 #cannabis, #wiet, #cbd, #thc, #hemp, #hennep, #wietolie, #cbdolie, #cannabiscommunity, #cannabisindustry, #medicalcannabis, #marijuana, #sativa, #indica, #hybrid, #ganja, #weed, #kush, #stoner, #smokeweedeveryday, #cannabisculture, #cannabisnews, #cannabissociety, #weedporn, #cannabiscup, #cannabisculturemagazine, #cannabiscures, #cannabisheals, #cannabiseducation, #weedstagram, #maryjane, #mmj, #thcslimes, #cannabisphotography, #dabstagram, #highsociety, #cannabismedicinal, #hightimes, #legalizeit, #weedlife, #cannabisgrowers, #cannabisgrow, #cannabisoil, #weedfeed, #weedstagram420, #cannabiscare, #weedlove, #weedmaps, #cannabisdelivery, #cannabisconnoisseur, #cannabispatient, #cannabisextracts, #cannabistherapy, #cannabisextract, #cannabisproducts, #cannabiscultivation, #cannabiscurescancer, #cannabisinvestors, #cannabisoilbenefits, #cannabisreview, #cannabisgrower, #cannabisoilheals, #cannabistincture, #cannabisvape, #cannabisreviews, #cannabisreleaf, #cannabislife, #cannabiscbd, #cannabiscommunityca, #cannabishealth, #cannabisindustrynews, #cannabisenthusiast, #cannabisrevolution, #cannabisinfused, #cannabislifestyle, #cannabissupport, #cannabisclubs, #cannabisgrowersofinstagram, #cannabiscapital, #cannabisnurse, #cannabisseeds, #cannabisactivist, #cannabisresearch, #cannabisvaporizer, #cannabisadvocate, #cannabisinspired, #cannabiscupwinner, #cannabiscommunityusa, #cannabisforhealth, #cannabistrade, #cannabisawareness, #cannabisvaporizers, #cannabisoutdoor, #cannabisproductsreviews, #cannabisrally, #cannabisstore, #cannabisdoctor, #cannabisaware, #cannabisart, #cannabispodcast, #cannabisbrand, #cannabisplants, #cannabistopicals, #cannabisretail, #wietoliepuur, #cannalivestream, #martinusvanlies, #kimmiesweeds, #martinuscoaching, #martinushendrikus, #onestepcommunity, #justmartinus, #wietolie, #cbdolie, #thcolie, #Cannabisolie, #Hennepolie, #cbd, #thc, #cannabis, #wiet, #hennep, #CBDproducten, #CBDNederland, #CBDoliekopen, #CBDolieNederland, #Wietkweken, #Wietsoorten, #Hennepproducten, #Wietoliemaken, #Cannabissocialclub, #Medischecannabis, #Hanf, #Cannabisöl, #CBDöl, #THCöl, #Hanfprodukte, #Cannabisprodukte, #CannabisDeutschland, #Cannabiskonsum, #Cannabislegalisierung, #Cannabiskultur, #Hanföl, #CBDDeutschland, #Cannabismedizin, #Hanftee, #Cannabiswirkung, #Cannabissamen, #Cannabisanbau, #community, #cannabis, #marijuana,#wietoliepuur, #endocanninoids, #indica, #sativa, #martinusvanlies, #cannabiscommunity, #cannabis, #innovation, #cbd, #thc, #terpenes, #flavonoids, #cannabis, #cannabisbusiness, #cannabisindustry, #cannabisscience, #cannabisresearch, #cannabiseducation, #cannabiscommunity, #CBG #kimmiessweeds, #justmartinus, #cbdolie, #martinuscoaching, #paddopuur, #canbucha, #onestepcommunity, #cannabiscoaching, #gratisolie, #cannatalk, #lecture, #lezing, #gift, #gratis, #cadeau, #canalyse, #cannatheek, #paddopuur, #martinus, #martinushendrikus, #terpenen, #hennep, #cannabis, #wietoliepuur, #stichting, #StichtingWietOliePuur, #cannakliniek, #mondo, #hemppro, #cbdcandy, #cbdolie, #thcolie, #weedoil, #wietolie, #medicinalecannabis, #mediwiet, #rso, #ricksimpson, #cannalivestream, #youtube, #google, #Facebook, #twitter, #naturalmedicine, #medicine, #musrooms, #magic, #paddenstoelen, #chaga, #reishi, #elfenbankje, #turkeytail, #canbucha, #kombucha, #jacobhooy, #cbdkruidvat, #cbdh4, #cbdhq, #vs, #usa, #swiss, #germany, #deutsland, #help, #medisch, #high, #stoned, #spreker, #spreken, #spiritualiteit, #spirit, #sponsoring, #persoonlijkegroei, #personaldevelopement, #mindsetcoach, #mindset, #mindfulness, #coaching, #hulp, #fanicieelvrij, #bobproctor, #jimrohn, #joedispenza, #tonierobbins, #cancer, #loveit, #love, #peace, #Bol, #bomcom, #amazon, #marktplaats, #strains, #sativa, #indica, #cannalivestream, #cannakeys,